Dr. Sorensen received his undergraduate degree from the University of Idaho and his degree in medicine from Loyola University Medical School in Chicago, Illinois. While at Loyola University, he received the Stritch Award as the outstanding graduating senior.
He completed a year of internship, and then four years of general surgery at Highland General Hospital in Oakland, California and the U.S. Naval Hospital in Portsmouth, Virginia.
He was then sent to Vietnam as a naval officer, serving with the Third Marine Division. After his discharge from the Navy, he returned to Idaho and practiced surgery for sixteen years.
In December of 1987, Dr. Sorensen returned to academic medicine and served two years as a Fellow in Plastic Surgery at the University of Utah Medical Center in Salt Lake City. He then did a cosmetic fellowship in Miami, Florida with Dr. Larry Robbins. He subsequently returned to Boise, Idaho and now practices plastic, reconstructive and cosmetic surgery.
Dr. Sorensen is board-certified by the American Board of Surgery and the American Board of Plastic Surgery. He is a Fellow of the American College of Surgeons, a member of the American Society of Plastic Surgeons (ASPS) and the Aesthetic Society.
He is also a member of the prestigious Western Surgical Association and several other surgical societies. He has written numerous articles for scientific publications. He is a member of the American Medical Association. He is past President of the Ada County Medical Society. Dr. Sorensen was selected by the Idaho Medical Association for the A.H. Robbins Award as the Physician of the Year for outstanding community service.
Dr. Sorensen served six years as a member of the Idaho State Board of Medicine and was also appointed to the Idaho State Board of Medical Discipline. Dr. Sorensen was elected to serve in the Idaho Legislature where he represented Ada County. He was elected to leadership as Majority Caucus Chairman by his fellow members of the Idaho House of Representatives in his second term in office.
He has also served on the Board of the Capital City Development Corporation. This Board is responsible for urban renewal and downtown development in Boise, Idaho.
Dr. Sorensen is also a Flight Surgeon and Colonel (ret) in the Idaho Air National Guard and served as the Idaho State Air Surgeon.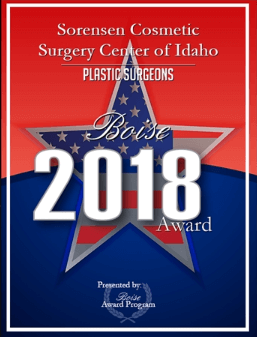 American Board of Surgery
American Board of Plastic Surgery
BS University of Idaho
MD Loyola University, Chicago
Internship Highland Hospital, Oakland CA
General Surgery Residency U.S. Naval Hospital, Portsmouth VA
Plastic Surgery Residency, University of Utah
Cosmetic Surgery Fellowship, Dr. Larry Robbins, Miami FL
Fellow of the American College of Surgeons
American Society of Plastic Surgeons
American Society for Aesthetic Plastic Surgery
Diplomat American Board of Surgery
Diplomat American Board of Plastic Surgery
Rocky Mountain Society of Plastic Surgeons
Northwest Society of Plastic Surgeons
Western Surgical Association
Ada County Medical Society
Idaho Medical Association
American Medical Association
American Academy of Cosmetic Gynecologists

Blue Cross
Blue Shield
United Healthcare
St. Luke's Regional Medical Center, Boise ID
Dr. Sorensen's Privileges